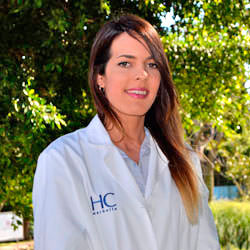 Verónica Villalba
Psychologist

Verónica graduated in Psychology at the University of Málaga. She specialized in the clinical area at the Hermanas Hospitalaria Psychiatric Centre of Málaga. There she worked in the Mental Health unit treating patients with mood disorders, with personality dysfunction and psychotic profiles. Later, she began to collaborate as a psychologist in the Association of gender violence "Awakening Without Violence" performing psychotherapy with men and women victims of domestic abuse.

After completing the master's degree in Clinical Practice she began to collaborate in the psychology unit of Maria Rosario del Villar, where she evaluated and treated patients with anxiety disorder, phobias, bereavement process, depression, obsessive-compulsive disorder, addictions, attention deficit and hyperactivity, etc.

She participated in the project of the Government Subdelegation through lectures on work stress for officials of the province and held workshops for parents in schools Maria de la Victoria Foundation to sensitize them on the types of school difficulties, techniques and study habits.

Master in Clinical Psychology. Member of the Spanish Association of Clinical Psychologists (AEPCCC).

Expert in Child-Youth Psychology.

Verónica Villalba is currently collaborating with Fertility and Assisted Reproduction Unit at HC Fertility in Marbella. Veronica is the psychologist responsible for evaluating gamete donors through specific interviews and administration of psychological tests. Veronica also carries out psychotherapeutic treatments in individual patients or COUPLES who are going through fertility treatment and who need psychological support during this period.