9 August, 2015
Prices and Options for Egg Donation cycles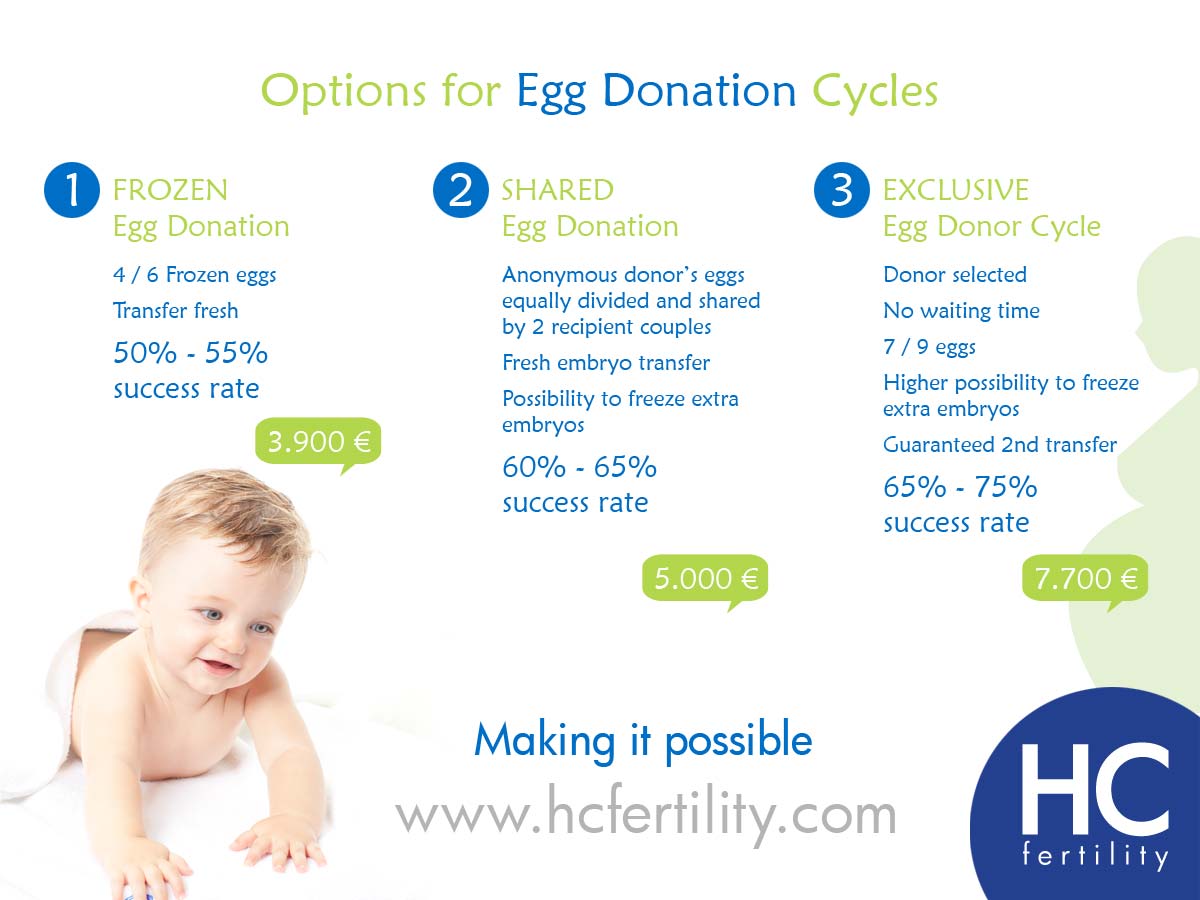 Egg donation is intended for women whose ovaries have lost the ability to produce healthy eggs, necessary for the implementation and development of a gestation.
The reasons for this problem can be diverse, age, previous surgery, genetic diseases, and receiving donated eggs is presented as a very suitable solution to satisfy your desire to be a mother.
Fertility HC offers three different options for egg donation in order to respond to the circumstances of each patient.
Frozen Egg Donation
The first option is the Frozen Egg Donation. Here the receiver can receive between 4 and 6 previously frozen eggs. During fertilization, the transfer will be made with fresh embryos, not frozen.
Sometimes there is the possibility of freezing surplus embryos and to make a second transfer.
The chances of success of this option are between 50% and 55%.
The cost of Frozen Egg donation is € 3,900.
Shared Donor Egg cycle
The second option is the Shared Donor Egg cycle. Two couples share eggs from the same anonymous donor.
This option means that you will get fewer eggs, but success rates vary between 60% and 65%. A second transfer is not guaranteed, however, it is possible to freeze surplus embryos to make a second transfer.
The first transfer is fresh embryos, in most cases.
The cost of Shared Egg Donation is 5,000 €.
Exclusive Egg Donation Cycle
The third option is an Exclusive Egg Donation Cycle. The donor is selected taking into account your physical characteristics.
In this option, no waiting list and you receive all the eggs from the donor, usually between 7-9 mature eggs. The first embryo transfer is fresh.
The unique cycle gives greater possibility of freezing embryos and ensures an additional second transfer of frozen embryos, possibly more than one.
The chances of success are between 65% and 75%.
The cost of egg donation is exclusive € 7,700.
Additional costs, if they apply:
Embryo freezing 300 € Freezing partner's sperm 200€ Annual maintenance costs 300 € Donor sperm sample 250 € Medication 150 € (approximately)
HC Fertility plans are clear and transparent; the prices of egg donation are indicated, no other hidden costs.
For more information, contact us us and we will solve all the doubts you may have without any obligation.

Back to blog
In other news