28 July, 2021
Your egg donation treatment in Marbella, Spain

The color of the sky, the smell of the sea, a place surrounded by gardens so that you can have this vacation feeling all year round, be it summer, be it winter… We make it possible at HC Fertility.
.
Why Spain?

Spain continues to be the most chosen country to carry out an assisted reproduction techniques and that is due to the high quality and success of the treatments.
For the excellent professionals who are exclusively dedicated to assisted reproduction in Spain, as well as for the magnificent quality-price ratio of the treatments and the natural attractiveness of the country, which allows the perfect combination of reproduction and tourism.
Spanish legislation allows anonymous and altruistic donation of semen and eggs, and yet in countries such as: Germany, Sweden, United Kingdom, Austria, it is either prohibited or the donation is not anonymous, so many couples decide to come to Spain to undergo assisted reproduction treatments with sperm and eggs donors.
All this has made Spain one of the leading countries in Europe (EU) in assisted reproduction treatments, both using woman´s own eggs and with donor eggs.
Why egg donation?

Egg donation is an assisted reproductive treatment using donor eggs.
It is carried out when it is not possible to use women´s own eggs for various reasons, such as age, low ovarian reserve, cancer and chemotherapy, genetic problems, not obtaining good quality pre-embryos in in vitro fertilization due to a female factor, etc.
A fundamental factor during the egg donation process is the team of professionals, who accompany patients throughout the process.
It is very important to have the support of a team dedicated to EACH PATIENT, in each step of their treatment; as well as a stress-free environment.
Why HC Fertility?

Our assisted reproduction clinic is located in Marbella, in the heart of the Costa del Sol.
HC Fertility is located in an exclusive private hospital, with extensive and modern facilities. We count with a highly prestigious team with over 25 years of experience in high quality medicine.
Our Fertility Center daily receives patients, both national and international, with different pathologies (endometriosis, repeat abortions, etc.), who cannot achieve pregnancy naturally, but thanks to our help.
In some cases, the only possibility of pregnancy is appealing to the donation of gametes (sperm and eggs).
Our egg donation success rates are: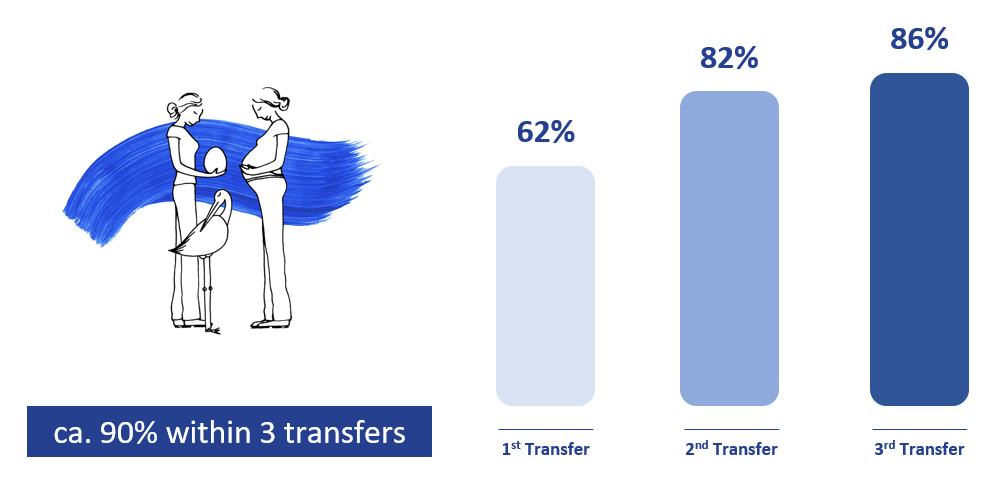 At HC Fertility we have everything you need to make you feel cared for at all times and in an environment that generates tranquility and well-being; a fertility clinic designed for comfort and privacy.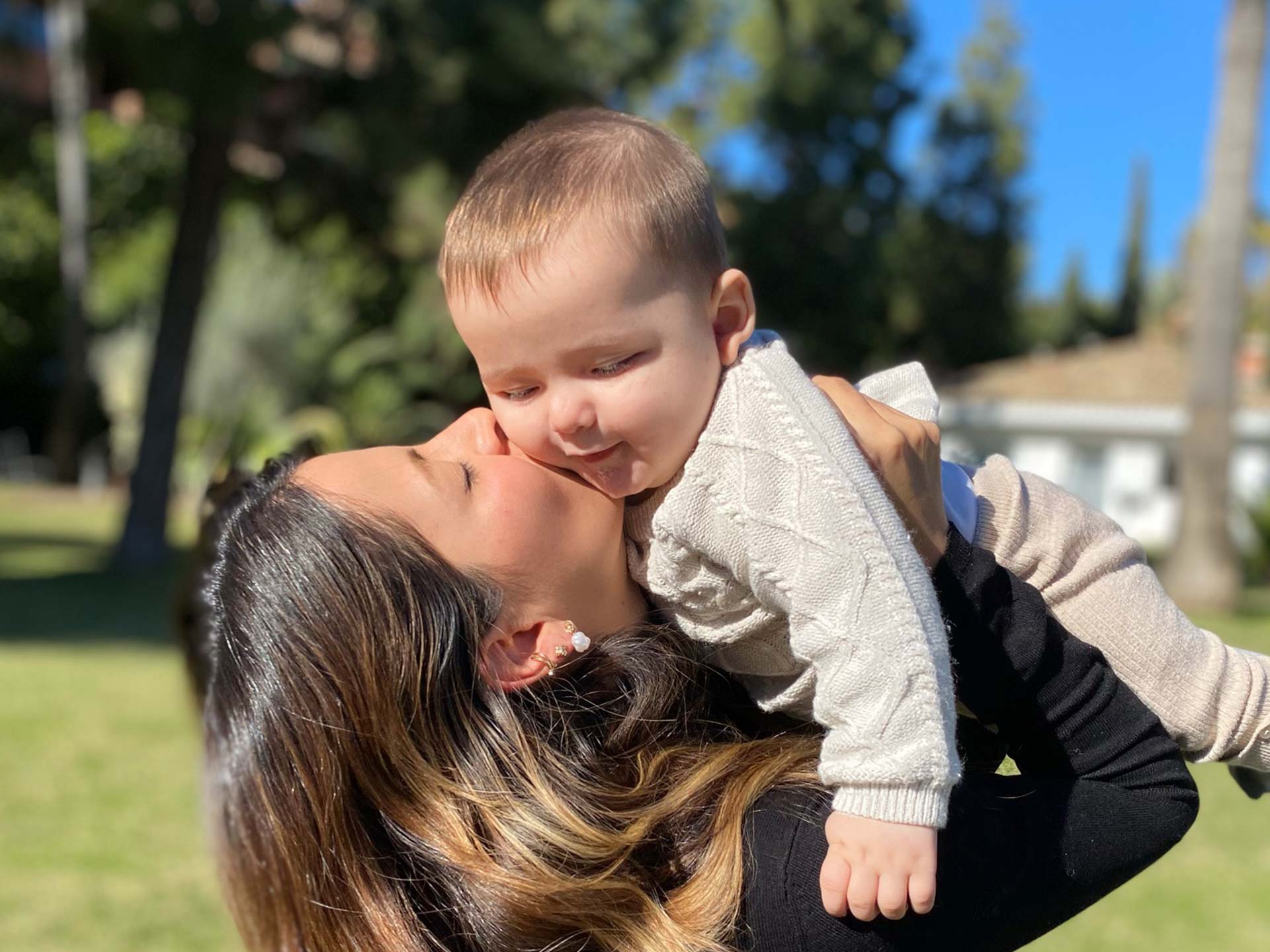 Why donor semen?

Every day the number of men with fertility problems is increasing.
Some of them are sterile due to different reasons such as: cancer and chemotherapy, surgeries, azoospermia (no sperm in the ejaculation or in the testicle), genetic problems, not obtaining good quality pre-embryos in in vitro fertilization due to a masculine factor, etc.
In the case of patients with this prognosis, the only solution to achieve pregnancy would be the use of donor sperm and assisted reproductive techniques.
In addition, single women or a couple of 2 women who wish to have children will be able to carry out their treatments in our country with the guarantee of donor´s anonymity.
Do you want more reasons to choose us?

At HC Fertility we provide you with all the information, advice on your trip: transfers, hotel and others, to complete a successful process in which we accompany you throughout the way in your own language.
You can enjoy your trip to Marbella and combine it with a pleasant vacation to tourist destinations of your interest.
Contact us without obligation, and we will inform you and solve all your questions.
AT HC FERTILITY, WE MAKE IT POSSIBLE!
How is the assisted reproduction process by egg donation?
Estos son los pasos

When a woman seeks pregnancy through egg donation, the following steps are followed:
Fertilization: the donor's eggs are fertilized with sperm from the partner or from an anonymous donor. Fertilization can be performed conventionally or through ICSI (intracytoplasmic microinjection).
Endometrial preparation: the recipient will be administered hormonal medication (estrogens and progesterone) orally, vaginally or in patches. These drugs are intended to ensure that your endometrium acquires the optimal appearance for the implantation of the embryos.
This treatment will last an average of 10 days approximately and will require ultrasound controls. In your case, this preparation would be carried out in your country with your local gynecologist, who may be in contact with our medical team to follow up and advise you, if necessary.
Embryo transfer: when our medical team verifies by transvaginal ultrasound that the endometrium has a trilaminar appearance and a thickness of between 7 and 10 mm, the embryos are transferred.
It is generally performed without anesthesia, as it is a simple and painless procedure in which the embryos are deposited in the uterine cavity, waiting for them to implant and start the pregnancy. It does not require special care, but 1 to 2 days of rest.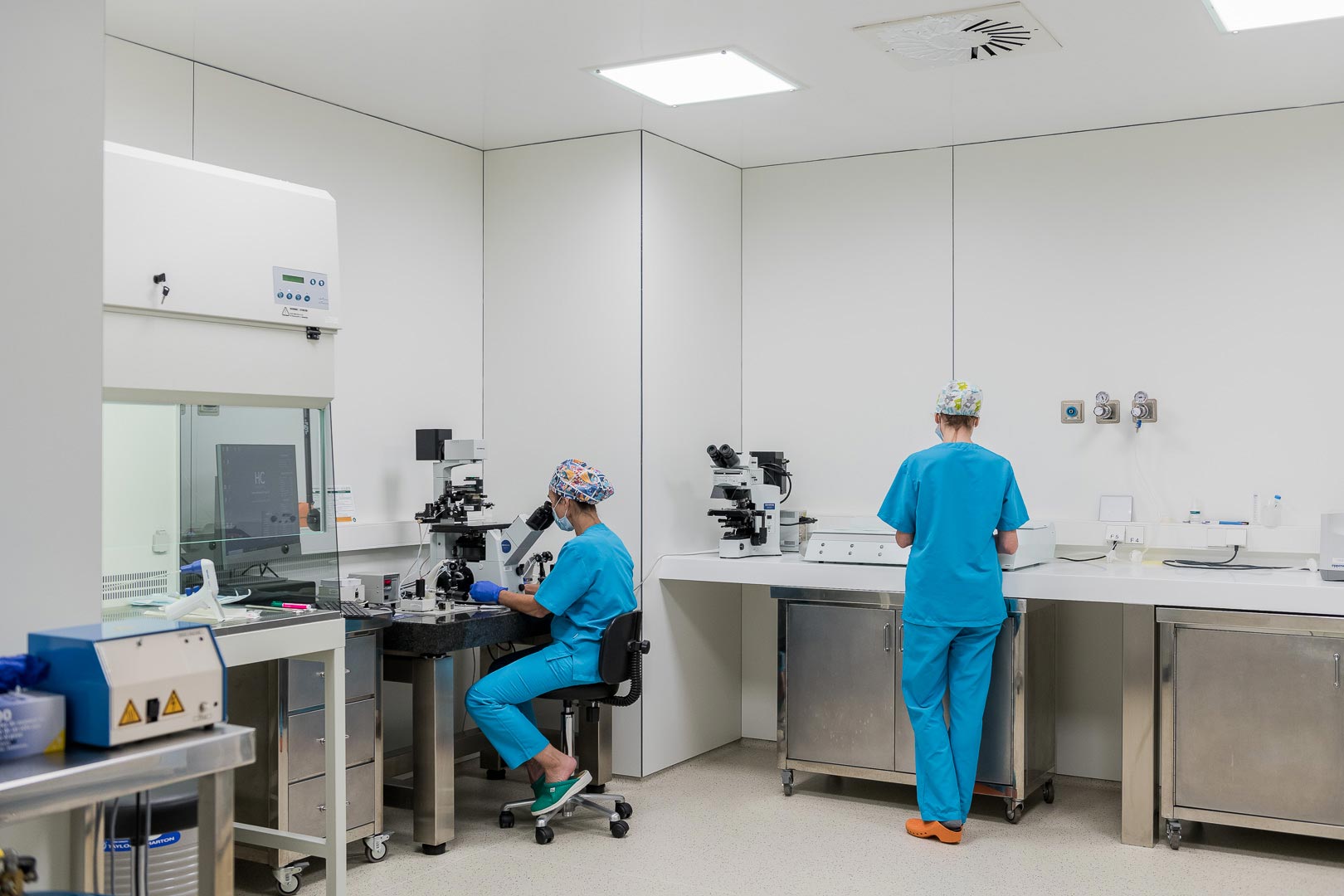 The transfer can be carried out 3 days after fertilization, when the embryo is made up of about 8 cells or wait until the 5th-6th day, when the embryo is already in the blastocyst phase, a complex cellular structure made up of approximately 200 cells. The embryos that reach this stage have a greater implantation capacity, which is why they are usually transferred one at a time (a single embryo per transfer), thus minimizing the probability of multiple pregnancies.
Pregnancy test: approximately two weeks after the transfer, the patient will be able to take a pregnancy test to confirm the success or failure of the egg donation technique. In your case, this test would be done in your country.
It is important to note that, in the event of pregnancy, it would be followed up just like a naturally achieved pregnancy.
Donor eggs can be used fresh or frozen.

If the egg donation is fresh, it will be necessary to previously synchronize the cycles of the donor and the recipient.
In the case of frozen ones, after obtaining the donor's eggs, they are vitrified (oocyte vitrification) until the moment of insemination, when devitrification will take place.
There is also the option of inseminating the oocytes and freezing the embryos fresh, to later devitrify them and transfer them to the patient, when the recipient´s endometrium is ready. This option would only be possible in case of using a sperm donor or a partner who has previously frozen their seminal sample.
Can we help you to fulfill your dream?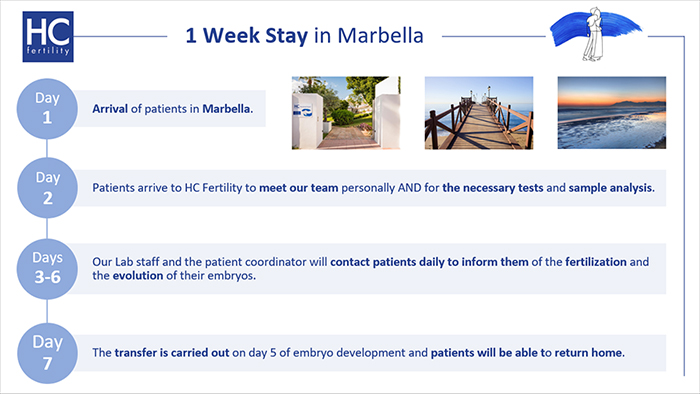 Back to blog
In other news